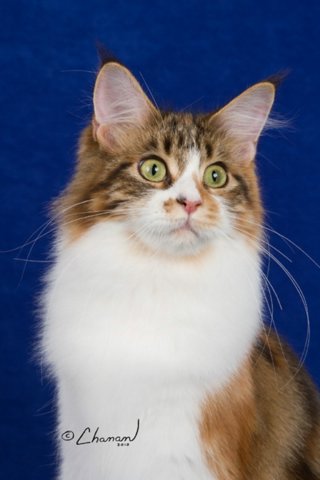 Brown Patched Classic Tabby & White
DOB: 3-2-10
Sire: GC, RW Rickoons Rockford of Angtini
Dam: GC Maine Lvrs Maya of Mayn Dezyn

Kate is a flashy brown patch tabby and white. She has a square muzzle, nice profile, nice boning and a wonderful, curious personality. With Kate added to our breeding program, she will be able to produce reds, browns, brown patch tabby kittens, with or without white.
Thank you, Maya, for this wonderful girl!
Thank you Harley and most of all Linda for giving us the opportunity to have this beautiful girl.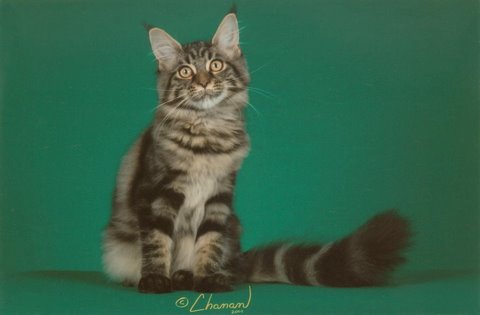 Brown Classic Tabby
DOB: 5-31-09
Sire: GC, RW Flitten's Gryphon
Dam: Sharmani's Liberty of Flitten
Breeder: Kim Paine
Abby is a gentle lady all around. She has such a loving personality and loves any & all attention. Abby has a great muzzle, strong chin and beautiful ears, along with her wonderful pattern, coat & personality, will give us really great kittens.
Thank you Kim for such a great girl to add to our breeding program.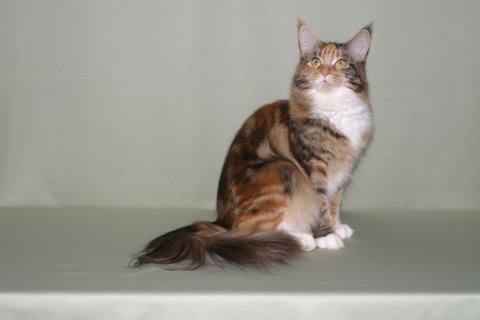 Brown Patched Classic Tabby & White
DOB: 10-19-07
Sire: CH Avicats Mattia Pascal of Angtini
Dam: CH Hobbiecat Bobbi Girl of Maine Lvrs
Breeder: Michelle Chaffee
Maya introduced us into the wonderful world of Maine Coons. Maya runs the household, including us. Even though she almost 3 yrs old, she plays as hard as her kittens. Maya has inherited her fathers begging habits and will start begging in hopes for treats. With her great muzzle & ears she has produced wonderful kittens.
Thank you Michelle for this outstanding girl!