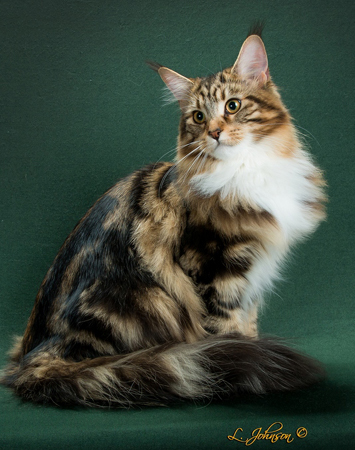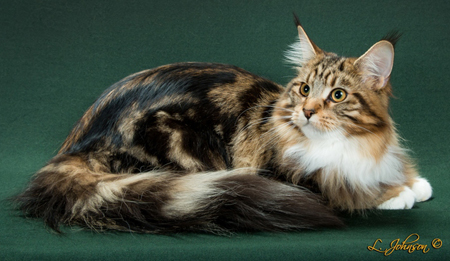 Brown Classic Tabby with White
DOB: 5-23-16
Sire: GC, RW Mayn Dezyn Matrix
Dam: CH Highlander Bebe of Mayn Dezyn
Darcie is a beautiful warm brown & white classic tabby, another beautiful mixture of Neo & Bebe. Darcie is adding pattern and warm brown colors and great personality to our breeding program.

PK deficiency negative and HCM negative due to parents being negative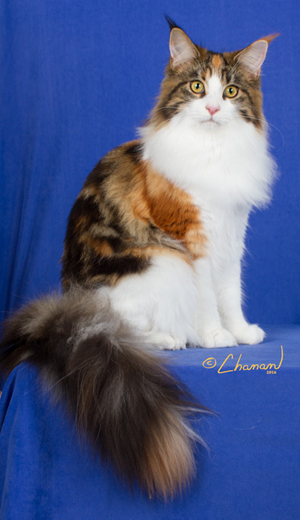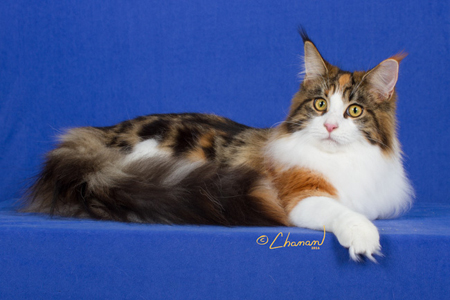 Brown Patched Classic Tabby with White
DOB: 1-17-16
Sire: GC, RW Mayn Dezyn Matrix
Dam: GC, RW Nascat Trinity of Mayn Dezyn
Tessa is a flashy brown patched tabby with white and has a loving personality. She is a wonderful mix of Neo and Trinity, with her mother's coloring and her father's unique tail markings. Neo has a white tail tip and Tessa has a red tail tip.
PK deficiency negative and HCM negative due to parents being negative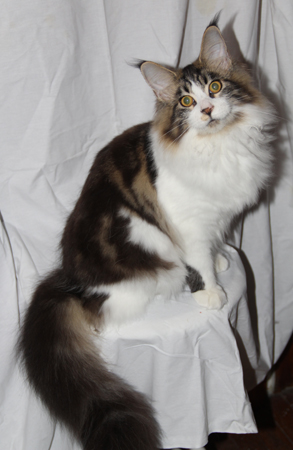 Brown Classic Tabby with White
DOB: 5-01-15
Sire: GC, RW Mayn Dezyn Matrix
Dam: GC, RW Nascat Trinity of Mayn Dezyn
Sofie is a brown tabby with white out of Neo and Trinity. She is a large girl with a great personality. She has beautiful large eyes, tall ears and nice boning and structure. She a girl that wants to snuggle right next to me anytime she gets the opportunity.
PK deficiency negative and HCM negative due to parents being negative